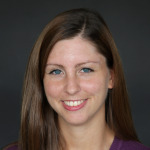 Paula Žitinski Elías successfully defended her PhD thesis titled "Improving image quality in multi-channel printing – multilevel halftoning, color separation and graininess characterization" on April 21st, 2017 at the Media and Information Technology, Linköpings Universitet, Sweden. Her supervisors were Sasan Gooran and Daniel Nyström. She now holds a PhD degree in Visualization and Media Technology.
Paula'€™s research was part of an EU Marie Curie project about the current research questions in high fidelity printing. One of Paula's main contributions is a model that predicts the colorimetric outcome and the perceived quality of ink combinations by incorporating filters that mimic the human visual system. More information can be found in Paula's website about her research on perceived image quality applied to colorimetric models.
Heartiest congratulations to Dr.Paula Žitinski Elías!