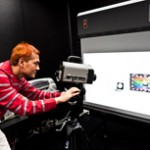 The Norwegian Colour and Visual Computing Laboratory at the Faculty of Computer Science and Media Technology in Gjøvik University College invites applications for a 2-year full-time Experienced Researcher (ER) position within the CP7.0 Project.
The recruited researcher will work in a dynamic high-level international research environment within the Colourlab, at the premises of Gjøvik University College, and in close collaboration with other researchers from the CP7.0 network. The ideal candidate should have extensive experience with colour imaging and printing workflows, a strong scientific background, and be a habile programmer.
The position will be based at GUC, but the candidate will also spend short secondments/visits to several project partners, to amongst other things provide training for less experienced project members in programming and workflow implementation, to exploit various application areas such as fine art reproduction and spectral proofing, and to participate in a rich program of organized research training activities within the project.
For more details and to apply for the position please follow the link http://hig.easycruit.com/vacancy/901367/42360?iso=no