Outreach newscase
Steven successfully completed his employment as an Experienced Researcher (ER1) at TUD, Darmstadt, Germany.
CP7 researcher Steven Le Moan successfully completes his role as Experienced Research (ER1) in the CP7 project. Apart from mentoring and training activites for ESRs in the project Steven mainly worked on image quality in spectral imaging. With good support from Dr. Philipp Urban and CP7 consortium, Steven investigated spectral image quality assessment, looking at how the perception of reproduction artifacts changes with viewing conditions. Essentially he took an existing full-reference image quality metric for colour images and developed it into a fairly simple scheme to deal with multiple conditions of illumination (e.g. daylight and candle light). Through his work he was also able to identify some redundancies in the perception of achromatic artifacts and was also able to considerably reduce the numerical effort required by the metric , which is referred to as Spectral Image-Difference metric (SID). He then used these findings in the development of a new interim connection space for low-dimensional spectral image processing, which was named as LabAB. With only five dimensions, this space convey sufficient information for a good colorimetric accuracy under dozens of different light sources. Finally without really deviating from the scope of "quality as a function of viewing conditions", he looked into High Dynamic Range image quality (HDR) and developed a new metric that he found to be significantly more versatile than what can be found in the state-of-the-art. This research was disseminated mainly through conference and journal papers, posters presentations and talks as described below:
Blahova, J., LeMoan, S. and Urban, P. [2013], The impact of illumination on the perceived quality of spectral reproductions, Color Image Processing Workshop, Berlin, Germany.
Le Moan, S. and Urban, P. [2013a], Evaluating the perceived quality of spectral images, IEEE International Conference on Image Processing, Melbourne, Australia.
Le Moan, S. and Urban, P. [2013b], Image quality and change of illuminant: An information theoretic evaluation, in `Color and Imaging Conference', number CIC21, Society for Imaging Science and Technology, pp. 102 – 107.
Le Moan, S. and Urban, P., [2014] Image-Difference Prediction: From Color to Spectral, Transactions on Image Processing, vol. 23, no. 5, pp. 2058-2068,IEEE.
Le Moan, S. and Urban, P. [2014], A new connection space for low-dimensional spectral color management, SPIE Electronic Imaging, San Francisco, CA, USA.
Coppel, L.G., Le Moan, S., Zitinski, P. E., Slavuj, R., Hardeberg, J. Y. [2014], Next generation printing – Towards spectral proong, `Advances in Printing and Media Technology, Print and Media Research for the Benefit of Industry and Society', IARIGAI print and media research, Swansea, UK.
Le Moan, S. and Urban, P., [2014], Spectral printing with a CMYKRGB printer: a closer look, 22nd Color and Imaging Conference, Boston, MS, USA, November 2014, IS&T.
Le Moan, S. and Urban, P. [2015], Evaluating the Multi-Scale iCID Metric, (accepted) to SPIE Electronic Imaging, San Francisco, CA, USA.
Le Moan, S., George S., Pedersen, M., Blahova, J., Hardeberg, J.Y. [2015], A database for spectral image quality, (accepted) to SPIE Electronic Imaging, San Francisco, CA, USA.
Steven is now employed at The Norwegian Colour and Visual Computing Laboratory, Gjøvik University College, Gjøvik, Norway as a post doctoral researcher in the HyperCept project.
CP7.0 project presentation and participation at the Graphic Arts Special Interest Group meeting in Heidelberg, Germany.
CP7.0 researcher Steven Le Moan presented the project status and results at the ICC's Graphic Arts Special Interest Group meeting held in Heidelberg, Germany on June 24, 2014. His presentation was a follow-up dissemination activity from last years presentation at the Graphic Arts Color Experts' Day organised by ICC at Frankfurt, Germany in June 2013.
Steven gave a presentation about the activities carried out and results achieved in the project in 2013 and future research and training plans for 2014 and 2015 with the aim of getting a feedback from the experts in industry and academia. The meeting was attended by the graphic arts special interest group members. This meeting gave an opportunity for Steven to interact with the experts from the industry and discuss his research for guidance and expert feedback.
CP7.0 demonstration table at the Electronic Imaging 2014 demonstration session
At ST&T/SPIE EI2014 conference, the fellow researchers participated in setting up a CP7.0 project demonstration table during the demonstration session on tuesday evening, February 4, 2014. This session, during the conference provided a unique networking opportunity, a time when attendees could see the latest research in action, compare commercial products and ask questions to technically knowledgeable demonstrators.
Fellow researchers Sepideh Samadzadegan, Teun Baar and Paula Žitinski Elías prepared demonstrations describing their research activities and presented to the conference attendees during this session. The aim of these demonstrations were to present some of the research done in this project and demonstrate possible applications of the research and address key research questions in the field of multi-channel printing.
Sepideh Samadzadegan addressed the research questions about the metameric vs. spectral reproduction. She prepared and distributed spectral print samples printed with a 7 channel (CMYKRGB) printer. Each sample was perceived having the same colour in all areas under D65 illuminant while two different colours were observed under CIE A illumination.
Teun Baar addressed the research question related to reproduction of local gloss variations in printouts. There exists a strong relationship between the surface roughness of a printout and the perceived glossy appearance. Employing a 2.5D or relief printing system, the printout roughness can be controlled by manipulating the way the ink is deposited in a layer-by-layer basis. For the demonstration session, a set of samples was prepared showing how manipulating these parameters of the printing system can result in control of local gloss variations to create reflection effects in the printouts.
Paula Žitinski Elías addressed the issues related to AM halftoning and limitations when using multi-channel printing and how her work done with changing the shape of the dots helps achieve a better reproduction, compared to traditional halftone shapes currently used in the digital printing techniques. The printed results made in collaboration with Ludovic (ER2) showed obvious visual improvements when using the adapted halftone techniques, and were shown to the session attendees.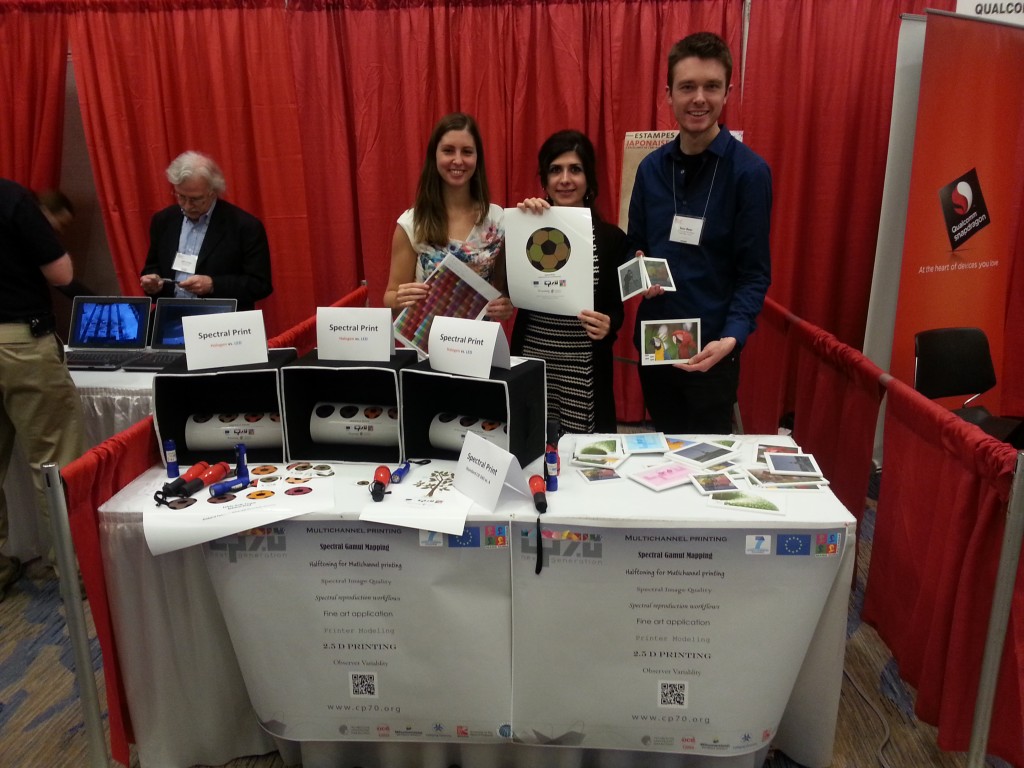 CP7.0 project presentation at Stanford Center for Image Systems Engineering (
SCIEN
)
After the special session at MMRMA conference in Electronic Imaging 2014 which was in San Francisco, CP7 consortium took the opportunity to visit the Stanford Center for Image Systems Engineering (SCIEN) at Stanford University campus. SCIEN is located at the David Packard Electrical Engineering building at Stanford University campus.
Apart from visiting SCIEN, the aim was to present the CP7 project and the consortium at SCIEN, Stanford. As part of outreach and dissemination during the visit, Prof. Jon Yngve Hardeberg presented the project consortium, MarieCurie ITN funding call and the research and training activities carried out in the first phase of the project. CP7 project fellow researchers also presented themselves to the audience explaining in brief about their research projects and contribution in the project. The audience was mainly graduate and undergraduate students studying at SCIEN and staff members.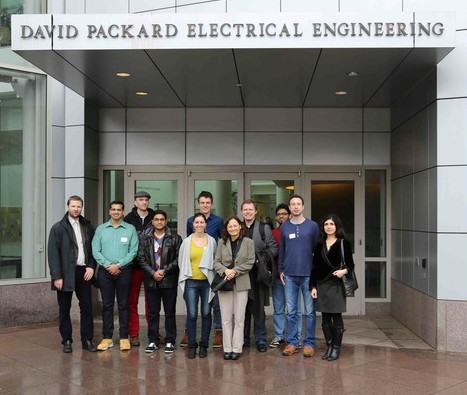 CP7.0 researcher Ludovic Gustafsson Coppel presents CP7.0 project at PFI, in Trondheim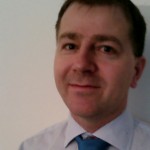 CP7 researcher Ludovic Gustafsson Coppel presented  the CP7.0 project at the Norwegian Paper and Fibre Research  Institute (PFI) in Trondheim. Future collaborations between the project partners and PFI, in the field of 3D structural characterisation of printed papers, new emerging paper substrates including nano-cellulose (MFC) and on how these will affect prints, were discussed. PFI is an independent research institute within wood fibre, pulp, paper, new biobased materials and biofuels.

As part of outreach activity CP7 researcher Melissa Olen presented her work at the Impact conference in Dundee, Scotland.
Melissa Olen has recently returned from the IMPACT8 International Printmaking Conference in Dundee, Scotland. Apart of the panel discussion "Transversing Print Media", Melissa discussed her research on "Artist influenced approaches for colour reproduction in inkjet printing". Through the multi-disciplinary nature of this conference, the methods and applications from this research were discussed with, and in relation to, academic and practitioner's perspectives of the printing/printmaking field. More information on the IMPACT8 Conference can be found at http://www.conf.dundee.ac.uk/impact8.
CP7.0 researcher G.M. Atiqur Rahaman talks about his research in the CP7.0 project with Örnsköldsvik kommun in Örnsköldsvik, Sweden.
CP7.0 researcher G.M.Atiqur Rahaman was interviewed by Örnsköldsvik kommun to know more about his research activities in the CP7.0 project and contribution towards the research in public and private sector in Örnsköldsvik, Sweden. Atiqur talked about CP7 project objectives, source of funding, and his role in achieving the project objectives. The aim of the interview was to collect and disseminate information about the current research activities in Örnsköldsvik, Sweden and people involved in those activities. The video of the interview can be watch on the  Örnsköldsvik kommun page on youtube. To watch the video please click here.
Video file: Interview_Atiqur
CP7.0 project presentation and participation at the Graphic Arts Color Experts' Day organised by ICC at Frankfurt, Germany.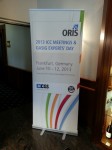 CP7.0 project members Radovan Slavuj, Srikrishna Nudurumati, Ludovic Coppel and Aditya Sole participated in the work group meetings on June 10th and 11th, 2013 and in the Graphic Arts Color Experts' Day organised by ICC on June 12, 2013 at Frankfurt, Germany. CP7.0 project and consortium was presented at the Experts' Day by Radovan Slavuj and Aditya Sole giving information on the research being carried out in the project and FP7 Marie Curie ITN funding received for the research from REA, Brussels.
ICC Experts' Day was an interesting conference where the CP7.0 project members got an opportunity to interact with the industry experts, vendors, and customers in the field of graphic arts and packaging. The experts discussed about the current industry problems and required solutions to colour and graphic art reproduction in printing and packaging industry.
CP 7.0 project presentation and participation at this day was one of the aimed outreach activities planned in the project to disseminate the work being done in the CP7.0 consortium.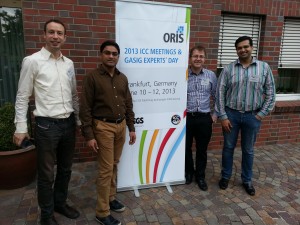 CP7.0 Project member presentation at Océ Business Week
From the 23rd to the 29th of April Océ Norway's Business week took place in Océ showroom in Oslo. The Norwegian Colour and Visual Computing Laboratory had a day dedicated to practial colour management, giving a workshop on colour management and presentations of their research to Norwegian graphic arts industry.
From the Colourlab Peter Nussbaum held a workshop on colour management, PhD student Radovan Slavuj presented the CP7.0 project, post doctoral researcher Sony George presented the multispectral acquisition of Munch's Scream, and lab director Marius Pedersen presented the Colourlab and it's research areas.
CP 7.0 was presented to audience by Radovan Slavuj. His talk addressed the differences between colour and spectral reproduction workflow and pointed to the applications where spectral workflow has clear advantage. Attention of the industry group was drawn onto this new and interesting field (and potentially profitable) and for further information CP7.0 poster was pointed out.

Other outreach activities
Forskning.no November 2014 [WEB]
Oppland Arbeiderblad 02.11.12: CP7.0 SAMLET PÅ GJØVIK [PDF]
University of West England in EU print project [WEB]
Oppland Arbeiderblad 11.04.12: Leder forskningsprosjekt i farger [PDF]
Oppland Arbeiderblad 11.04.12: Forsker i Farger [WEB]
Forskerforum 10.04.12: Høgskoleforskning i verdsklasse [WEB]
Forskningsrådet 13.03.12: Gjøvik koordinerer stort ITN-prosjekt [WEB]
Oppland Arbeiderblad 22.02.2012: Jakter på tapte kunstverk i Paris
Océ Newsletter February 2012: Unikt EU-prosjekt innen farge og trykk [WEB]
In-publish.no 31.01.12: Prestisjeprosjekt for HiG/Fargelaboratoriet http://www.in-publish.no/hjem/2012/1/31/prestisjeprosjekt-for-higfargelaboratoriet.html
AGI December 2011: Kronikk – Farger i ypperste klasse [PDF]
AGI September 2011. EU-prosjekt om farger [PDF]
NRK Radio 12.10.2011 Interview with Jon Y. Hardeberg about the CP7.0 project.
NHO Grafisk 30.08.11: Fargelaboratoriet: EU-prosjekt til 17 millioner http://www.nhografisk.no/article.php?articleID=1782&categoryID=198
iGjøvik 08.09.11: Høgskolen leder prestisjeprosjekt [PDF]