Conferences
Special Session as CVCS2015
The last special session (SS4) for the CP7.0 project was organised at the Colour and Visual Computing Symposium (CVCS2015) 2015. SS4 was the closing event for the project. Two invited speakers Creig Revie from Kodak and Dr. Reiner Eschbach particpated in the event. Creig talked about challenges in the industry with respect to technology and innovation and what role the ESR's can play once out in the industry. He discussed about innovation and why it is important in the technology field and how the ESR's as experts in the field can contribute. Reiner talked about 'Taking Advice'. He discussed on the quote made by George Bernhard Shaw which states "The reasonable man adapts himself to the world; the unreasonable one persists in trying to adapt the world to himself. Therefore, all progress depends on the unreasonable man".
This was followed with a talk by Prof. Jon Yngve Hardeberg about the project results and progress. All the ESRs and ER's presented the work done in past 36 months in 10 minute presen- tations. The aim of 10 min presentations was that it should help the ESRs in discussing their work during job interviews or presenting to the investors if they choose to start their own business.
There was also a long discussion session where everyone (scientists-inchrage, invited speakers, ESR's and ER's openly discussed on the project progress and results and future tasks and activities of the young researcher, the consortium and the project.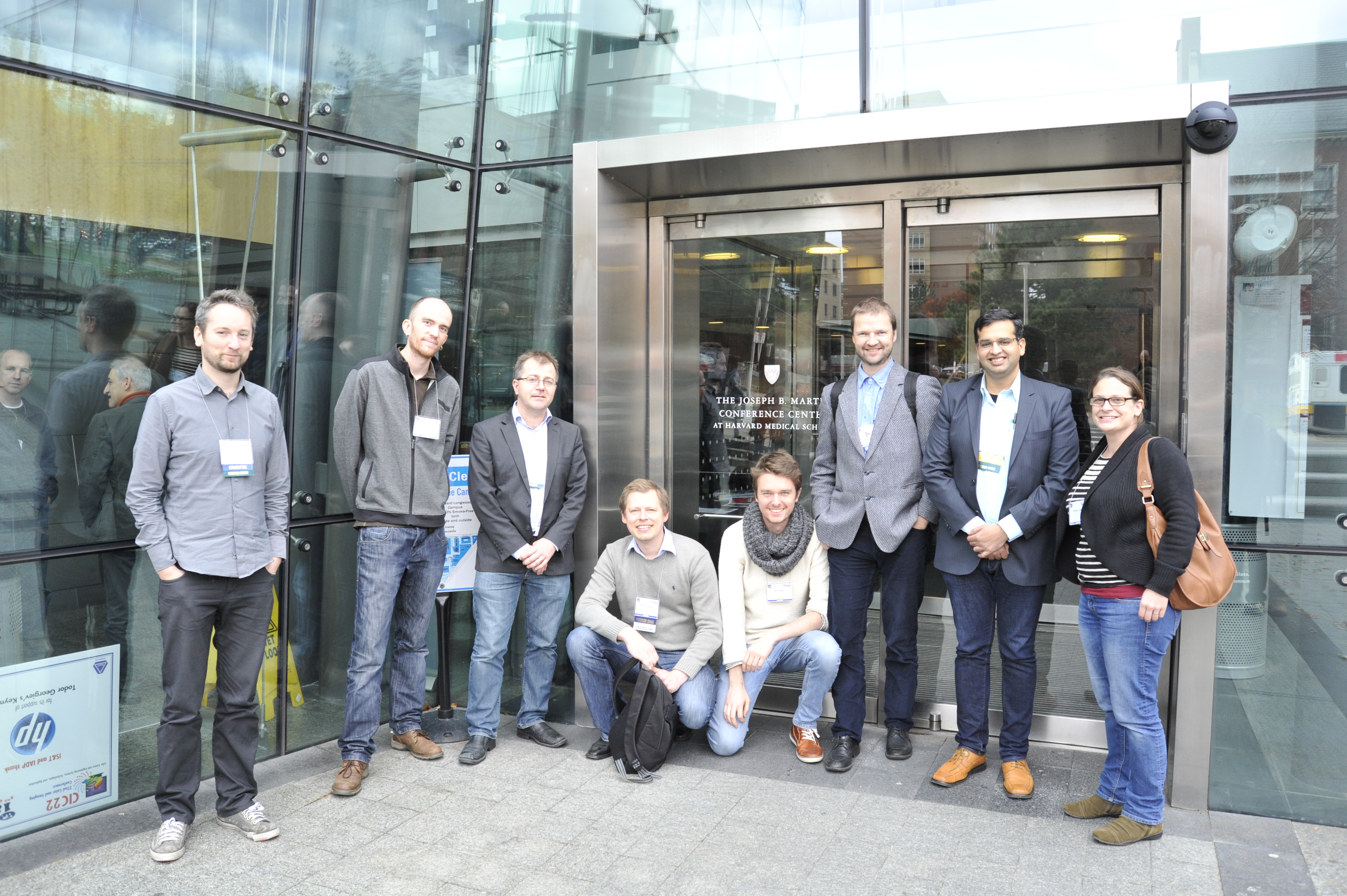 A workshop called 'Next Generation Color Printing Workshop' was organised at part of planned networking and dissemination activity by the project researchers and consortium in the CIC22 conference held at Boston, MA on November 3-7, 2014. Color Imaging conference (CIC) is the premier annual technical gathering for scientists, technologists and engineers working in the areas of colour science and systems, and their application to colour imaging. Participants represent disciplines ranging from psychophysics, optical physics, image processing, color science to graphic arts, systems engineering, and hardware and software development. While a broad mix of professional interests is the hallmark of these conferences, the focus is colour.
The workshop was organised by Cp7 researchers Ludovic Gustafsson Coppel and Radovan Slavuj with contribution from other researchers from the project. The main goal of this workshop was to provide a forum for brainstorming the future of printing and identifying new research problems and potential industrial applications. The workshop had a series of invited talks from established researchers from printing companies and academia who presented their views on the future of printing. These talks were followed by panel discussion lead by a group of CP7 researchers and experts in the field of spectral, multilayering, and 2.5D-printing. The following talks were presented in the workshop followed by discussions:
Colour Printing 7.0: Next Generation Multi-channel Printing, Coppel, L., G.; Sole, A.; Hardeberg, J., Y., Gjøvik University College (Norway).
What is the Colour of Your Eye?, Eschbach, R., Xerox Corporation (USA).
Next-gen Printer: Let's Make a Wish*, Bonnier, N., Cannon Information Systems Research Australia Ply Ltd (Australia).
Halftone-Palate Type of Both Soft-proofing and Hard-proofing Applications via Multispectral Approach for High-Fidelity Printing Systems*, Mei-Chun Lo, Shih Hsin University (Taiwan).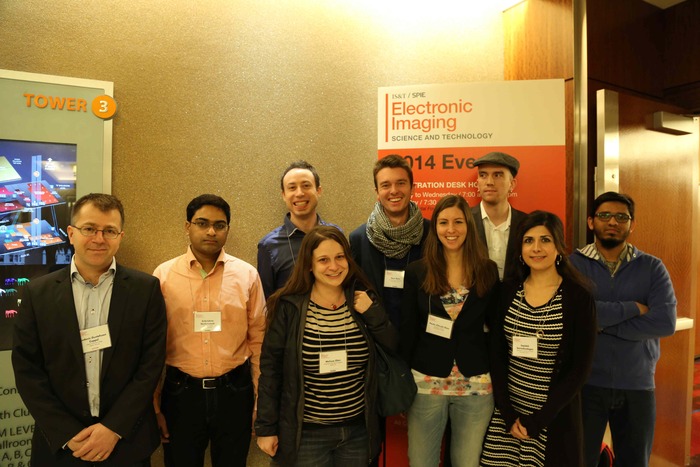 A special session for the CP7.0 project was organised at the MMRMA conference at Electronic Imaging 2014. Electronic Imaging is the premier international imaging symposium where you are on the forefront of research and innovation in the field of imaging, image processing, sensors, applications, and imaging science and technology.
As part of this special session, Prof. Jon Yngve Hardeberg gave an invited talk on CP7.0 Project: Goals, challenges and accomplishments. He presented and discussed the work carried out in the project since its start in October 2011. This talk was followed by presentations from the fellow researchers in the project about their on going research. In total, 10 papers were presented at the new Measuring, Modeling and Reproducing Material Appearance (MMRMA) conference, EI 2014:
Olen, M.; Parraman, C., Reproducing the Old Masters: Applying colour mixing and painting methodologies to inkjet printing, accepted at Color Imaging XIX, SPIE Electronic Imaging, San Francisco, CA.
Qu, Y. Y.; Elias, P. Z.; Gooran, S., Colour prediction modeling for five-channel CMYLcLm printing, accepted at Color Imaging XIX, SPIE Electronic Imaging, San Francisco, CA.
Namedanian, M.; Nyström, D.; Elias, P. Z.; Gooran, S., Physical and optical dot gain: Characterisation and relation to dot shape and paper properties, accepted at Color Imaging XIX, SPIE Electronic Imaging, San Francisco, CA.
Slavuj, R. et al., Measuring or Estimating Neugebauer Primaries for Multi-channel Spectral Printing Modeling, accepted at MMRMA, SPIE Electronic Imaging, San Francisco, CA.
Le Moan, S.; Urban, P., A new connection space for low-dimensional spectral color management, accepted at MMRMA, SPIE Electronic Imaging, San Francisco, CA.
Rahaman, A.; Norberg, O.; Edström, P., Extension of Murray Davies tone reproduction model by adding edge effect of halftone dots, MMRMA, SPIE Electronic Imaging, San Francisco, CA.
Coppel, L. G., Lateral light propagation and angular variation of the reflectance of paper, MMRMA, SPIE Electronic Imaging, San Francisco, CA.
Baar, T.; Samadzadegan, S.; et al., Printing gloss effects in a 2.5D system, MMRMA, SPIE Electronic Imaging, San Francisco, CA.
Baar, T.; Shahpaski, M.; Ortiz Segovia, M.V., Image ghosting reduction in lenticular relief prints, MMRMA, SPIE Electronic Imaging, San Francisco, CA.
Tisato, F.; Parraman, C., An investigation into the micro surface of artworks using alternative lighting techniques, accepted at MMRMA, SPIE Electronic Imaging, San Francisco, CA.
ROND CONFERENCE, 2013
ROND, Research ON Digital printing on paper media, is an annual conference arranged by Digital Printing Centre at Mid Sweden University each year with a specific "theme" related to digital printing. Some of the previous themes have been "High Speed Inkjet", "Paper Optics with New Eyes", "Innovative Packaging", "Inkjet for Industrial Applications". This year the theme is "Spectral Printing" covering digital printing technology, multi channel printing and the appearance of printed products.
Spectral Printing
Ever since its origin in the late 19th century, a colour reproduction technology has relied on a trichromatic colour reproduction approach. This has been a very successful method and also fundamental for the development of colour reproduction devices. Trichromatic colour reproduction is sufficient to approximate the range of colours perceived by the human visual system. However, tricromatic systems only have the ability to match colours when the viewing illumination for the reproduction matches that of the original. Furthermore, the advancement of digital printing technology has introduced printing systems with additional colour channels. These additional colour channels are used to extend the tonal range capabilities in light and dark regions and to increase colour gamut. By an alternative approach the addition colour channels can also be used to reproduce the spectral information of the original colour. A reproduced spectral match will always correspond to original independent of lighting situation. On the other hand, spectral colour reproductions also introduce a more complex colour processing presenting new challenges to overcome.
Highlights
Three invited keynote speakers will give their view on colour reproduction and the importance of correct colour reproduction, the influence of viewing situation and the challenge of developing a spectral printing system.
Dr. Ján Morovic
Master Technologist, Hewlett-Packard Large format printing R&D, ICC profiling and director of CIE Division 8: Image Technology
Kristina Brink
Senior Lecturer and Director of Graphic Design, Mid Sweden University
Joseph Padfield
Conservation Scientist, Digital Imaging, National Gallery, London
Conference program can be downloaded from here.